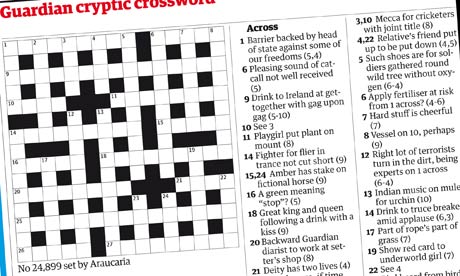 My name is Sunny Jim (it isn't really but what the hell) and I'm a (Guardian) crossword addict (the proper one, not the quick one). There I've said it, I can't do without it. I can't be doing with the online version and it would be such a faff to print it out every day (except for those times when they print the wrong one, cue another snotty email to the readers' editor) that I buy the paper every day. When I'm abroad on holiday I mostly avoid the urge to buy the paper just for the crossword by taking a book of old crosswords with me.
I first started buying The Guardian when I was at UMIST doing Maths and it wasn't long before I took my first fledgling attempts at writing letters in those white boxes on the back page. I wasn't very good but soon got better. There were other students on my course who took an interest and very soon we were working collaboratively on each day's crossword by chalking it up on the blackboard in what passed for our common room and so sharing our answers between (never instead of, oh no) lectures and tutorials. Pretty soon we began to make a pretty decent fist of it and would occassionally even finish it, though we sometimes had to call on the help of the odd (and some of them were) professor to get the last few clues in.
One of the joys of the Guardian cryptic is that you know who you're dealing with, to some extent. Each day's puzzle is formally attributed to a compiler and so we began to recognise individual setters and it would give us some idea of the difficulty and our likely chances of completing a particular grid. Very early on, one compiler stood out,
Araucaria
. In 1966,
Ximenes
of the Observer (Derrick Macnutt) wrote a
book
which laid out a set of 'rules' that he felt should be present in a good crossword. We quickly learnt that Araucaria played fast and loose with these so-called rules and anything was fair in love and crosswords just so long as the answer could be readily and unambiguously determined.
So why this blog post? Well in today's paper there is a
crossword
that made me smile a great deal whilst also making me feel rather sad as I filled in the clues and worked my way towards the message that it contained. Once finished I also felt a great deal of admiration for a man who has brought me a deal of pleasure over the years and hopefully for some time to come yet. Who else but the crossword compiler's crossword compiler would announce to the world that they have cancer by way of a crossword puzzle?
Many thanks John and I hope there will be many more crosswords to come.